Eurobike Fair 2023: Innovation and Passion for Cycling
In the exciting city of Frankfurt, Germany, the Eurobike Fair 2023 is about to begin. From 21-25 June this year, this world-renowned event will become the epicentre of the cycling industry, attracting professionals, enthusiasts and onlookers from all over the world.
Eurobike has cemented its position as the leading trade show in the cycling industry, exceeding expectations of both exhibitors and visitors with every edition. With a successful track record and an impeccable reputation, this event has become the ideal place to discover the latest innovations in bicycles, components, accessories and related services.
This show promises to be an unforgettable experience for all attendees. The venue will be transformed into a paradise for two-wheeled enthusiasts, with pavilions filled with exhibits, stands and demonstrations from the most recognised brands in the world of cycling. From renowned bike manufacturers to new startups, there will be something for everyone's tastes and needs. The event is set to surprise visitors with a wide range of highlights that make it a one-of-a-kind event.
Most awaited elements to be enjoyed during the fair
Latest Generation Bicycle Exhibition: Industry-leading manufacturers will preview their latest mountain, road, city and folding bike models. From ultra-lightweight designs to smart urban mobility solutions, visitors will have the opportunity to explore and test ride the most innovative bikes on the market.
Advanced Technology and Components: Eurobike 2023 showcases the latest developments in bicycle technology and components. From electronic drivetrain systems to high-precision brakes, the main exhibitors are products that improve the performance, safety and comfort of cyclists.
Test and Demonstration Area: Attendees will be able to enjoy a specially dedicated area to test bikes and components in a controlled environment. Whether on indoor test tracks or outdoor circuits, this experience will allow visitors to experience first-hand the features and performance of the products on display.
Conference and Workshop Programme: Eurobike 2023 presents a full programme of conferences and workshops on topics relevant to the cycling industry. Renowned experts will share their knowledge and experience in areas such as sustainable mobility, market trends, cycle tourism and cycling technology.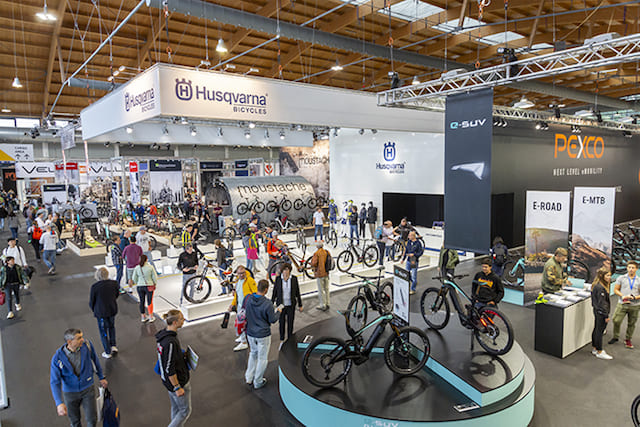 Competitions and Special Events : Eurobike would not be complete without exciting competitions and special events. From bike stunt racing to exhibition bike shows, visitors will be able to enjoy displays of skill and prowess from world-renowned professional cyclists.
One of the highlights of this year's Eurobike will be the presentation of the latest trends in electric bicycles. In recent years, the e-bike market has experienced exponential growth, and visitors will have the opportunity to explore a wide variety of models from different brands, all powered by cutting-edge technologies.
In addition to e-bikes, Eurobike 2023 will showcase innovative components and accessories. From state-of-the-art drivetrain systems to high-performance brakes, exhibitors will complete products designed to enhance the riding experience and meet the needs of professional and amateur cyclists alike.
An exciting event combining exhibitions, conferences and business opportunities.
Eurobike is not just about exhibitions. It will also feature a full programme of conferences, lectures and debates on topics relevant to the cycling industry. These events will give attendees the opportunity to learn from experts, share knowledge and discuss the challenges and opportunities facing the sector.
For top-level cycling and racing enthusiasts, Eurobike 2023 will be the perfect place to meet some of the world's leading cycling professionals. With the presence of famous cyclists, teams and leading personalities, visitors will be able to enjoy close encounters with their idols and get an insider's view of life in the peloton.
The Eurobike Fair is not only an event for industry professionals and cycling enthusiasts, but also an ideal platform for networking and business opportunities. Distributors and retailers will have the opportunity to build relationships with leading manufacturers and suppliers, while emerging companies will be able to present their products to a global audience.
Eurobike 2023 will mark the beginning of a month full of excitement and events in the cycling industry. SDT Brakes will have its own stand at the Sea Otter trade fair, where it will be presenting and informing professionals, distributors and users about its new cycling products. This event will be a unique opportunity to discover the latest innovations in bicycle brakes and receive advice from experts in the field.
Visitors will have the opportunity to immerse themselves in a world full of innovative bikes, cutting-edge components and state-of-the-art accessories. Lectures and discussions will provide an in-depth insight into the challenges facing the cycling industry, while meetings with professionals and famous cyclists will leave a lasting impression on attendees.
SDT Brakes at the September Sea Otter Show
In September, SDT Brakes is preparing to present its new products at the Sea Otter Show. This upcoming opportunity will allow professionals, distributors and users to experience SDT Brakes' bicycle brake innovations first hand.
Ultimately, the Eurobike Exhibition 2023 in Frankfurt will be a resounding success. It will bring together people who are passionate about bicycles and foster the exchange of knowledge, driving the industry forward. In addition, the anticipation will continue to grow for the Sea Otter Show in September, where SDT Brakes will continue its mission to bring quality products and excellence to bicycle professionals, distributors and users.