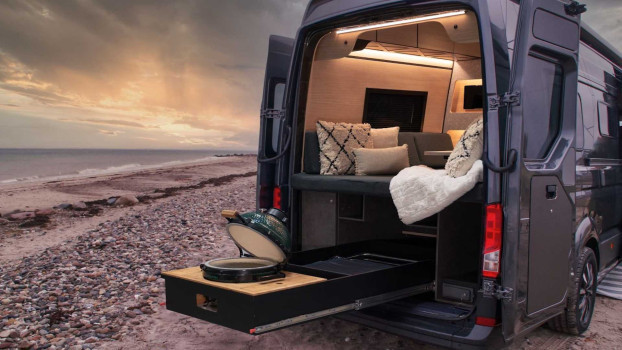 A motorhome is a vehicle with a passenger compartment and a powerful engine that can travel on the road. It is usually used for recreational, vacation or business purposes, and has always been conceived as even a house on wheels. A camper van, on the other hand, can be much smaller in size. It agrees with the motorhome in that it is also a vehicle with accommodation and a powerful engine that can be driven on the road, but it offers many more limitations. Both are a vehicle that provides protection to the occupants from the outside environment and also allows them to sleep in it, which makes them the perfect option for those who want to go on a trip and not go bankrupt in the try.
Why rent a motorhome and camper van for your next trip?
The cost-benefit analysis of renting a motorhome or van camper is clear: you will save money on accommodation, you will reduce the stress of traveling, you will be able to discover new places, see more of what your destination has to offer and enjoy the freedom of not having to worry about finding a place to stay when you are tired. Renting a motorhome or camper van in Europe is easy: just look for listings on sites like Booking.com, Airbnb and Autocaravan.
What are the differences between traveling in a car or RV?
Traveling in an RV is a great way to see the country. It is one of the most popular options for traveling around Europe.
There are many differences between traveling in a car and traveling in a motorhome. For example, cars are more comfortable for people who want to drive around the city and not worry too much about parking, but they do not offer any kind of comfort if you have to sleep on it. Motorhomes offer more storage space, bathroom, kitchen and areas to sleep or rest.
5 tips to make camping the most memorable adventure of your life
You are looking forward to going on a trip with a motorhome, it promises to be an unforgettable and unique experience, but we must be honest: anything can go wrong. So you should tread carefully.
There are many things that can go wrong when camping
From forgetting your tent to being unprepared for the weather, it's easy to get frustrated. With these 5 tips, you can make your camping trip a success.
1) Be prepared for anything. Research the path and destination thoroughly.
2) Plan ahead and pack what you need wisely.
3) Keep keep your gear under control.
4) Consider how long you'll be out.
5) Take advantage of the natural beauty that surrounds you.
9 Motor Events 2022: Calendar of Spain
How to travel in a motorhome and camper with your pets
There are many different types of motorhomes, from traditional camper vans to luxury motorhomes. The main difference between these types of motorhomes is that they are designed for different purposes. The size, engine type, and style will vary depending on what purpose the vehicle is made for. The most popular type of motorhome is a camper van. It has a small engine and a high roof to protect it from rain and sun. Motorhomes typically have soft surfaces and a large bed/sleeping area for sleeping. They are often used to travel long distances to access the great outdoors. These types of motorhomes can traditionally be found at car shows, rallies, and fairs.
Traveling in a motorhome with pets is possible
For many people, traveling with pets is a struggle. They have to find the right hotels and campsites for pets, as well as make sure their furry friends are well taken care of. But with the help of motorhomes, they can take their pets on the road and travel freely without worry. When you travel in a house with wheels with your family, you find all the advantages that taking your pets offers in her.
That freedom offered by the motorhome is not given to you by hotels and their limited conditions. Traveling with your dog in a caravan will turn your trip into a fun learning experience.
How to choose the right type of camper for your needs?
< p>There are different types of motorhomes that you can choose from according to your needs. If you are looking for a motorhome that can carry a lot of gear and is capable of taking on long haul adventures, then an RV is the right choice for you. They offer all kinds of amenities and will provide you with everything you need; yes, be well informed about the places where you can and cannot camp. On the other hand, if you are looking for one that is easy to drive and maintain, that does not take up too much space and to travel not so long distances, then a camper could be the right option for you.
Before traveling, check the brake pads and the brake fluid, we don't want accidents
The brakes of motorhomes are a very important factor. In addition, it must be reviewed well since there are two types of users: the one who uses it every month and the user who does it once a year. In both cases, the revision must be carried out.
Brake fluid: In both cases, it is important to check the condition of the brake fluid, both for a lot of use and for little. Brake fluid is hygroscopic, that is, it attracts and absorbs moisture, so over time the more moisture we lose the properties of the liquid, causing the boiling point of the brake fluid to drop. It is very important every approximately 50,000km or between one or two years to change all the brake fluid of the motorhome. It is very economical and can prevent an accident.It is convenient to check the original brake hoses that are made of rubber, they can also be replaced by metallic Teflon ones that improve the feel, this is done to improve or it is recommended if the motorhome is already a few years old (5 or more years) since the rubber ones end up cracking over time. We manufacture brake hoses for all types of vehicles and if it is not in our catalog we can manufacture it to measure.
Brake pads: The brake pads in these vehicles perform a very important function and we believe that it is somewhat important that they are of good quality and with a good coefficient of friction. Normally they are vehicles that are already heavy when empty, but as soon as we fill tanks with water, diesel, food, between 2 and 5 people, we end up with weight limits for circulation. We are aware of what it means to improve braking in your leisure vehicle and the importance of its safety. We have the range of pads High Performance S50 and S50+ for all types of vehicles including camper, motorhome, van, fiat ducato, mercedes sprinter, viano, hymer, concorde, westfalia, burstner, adria, challenger, benimar…
Any questions? You can contact SDT Brakes.